Hi Briana.
You would use the tangent function to calculate this. Remember that you are travelling along a plain, so that means horizontal. You want a height, which means vertical. You have a right angle therefore.
Here is a diagram.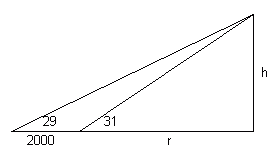 Let's call the height h and the remaining distance from our nearer point to the internal base of the mountain r. Then tan 31 = h/r. But as well, tan 29 = h/(r+2000).
Now you have two equations with two variables, so solve this one of the usual ways (such as substitution of r).
Hope this helps,
Stephen La Rocque.