Hi Erin,
You have V=1/3 pi r2 h but let's be more explicit. Let V(t) be the volume of water in the tank at time t minutes, h(t) be the height of the water at that time and r(t) the radius of the top of the water at time t. You want to find the rate at which the height of the water , h(t), is changing at a particular time, the time when the height of the water is 6 ft.
The rate you want, the rate at which h(t) is changing is h'(t). You do know one rate, V'(t) = 9 cubic feet per minute at every time t. You can find a relationship between V'(t) and h'(t) by differentiating both sides of
V(t)=1/3 pi r2(t) h(t)
with respect to t but, unfortunately the right side will contain not only h'(t) but also r'(t). Somehow you need to eliminate the r(t) factor from the right side of
V(t)=1/3 pi r2(t) h(t)
to make this procedure work. The geometry of the situation gives you the information you need.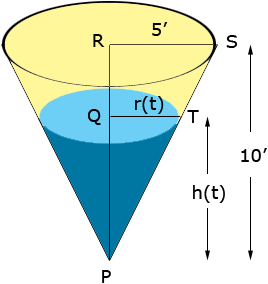 From the diagram triangles SRP and TQP are similar and hence
|SR|/|RP| = |TQ|/ |QP|
Thus
5/10 = r(t)/ h(t)
and hence r(t) = 1/2 h(t).
Substitute this into the expression V(t)=1/3 pi r2(t) h(t) and then differentiate both sides with respect to t.
Penny