Jessy
secondary (10-12) student


Dear Math Central:

Here is the problem we need help with:

A man who is six feet tall is walking away from a street light that is fifteen feet tall. How long is the man's shadow when he is ten feet away from the light?

Thank you for you consideration. I look forward to your reply.

Sincerely,

Jessy

Hi Jessy,

Let S be the length of the shadow. Draw a diagram and label the distances that you know.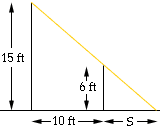 Use similar triangles to find S.

Cheers,
Penny

Go to Math Central