I have this prolem and i don't understand.This is the problem.
1.A team of scientists found that in a forest there was four maple trees for every nine pine trees.How many maple were there if they counted 45 more pine than maples?
a.65
b.13
c.45
d.36
Hi,

There are 4 maple trees for each 9 pine trees so I see these trees in clusters of 9 + 4 = 13 trees.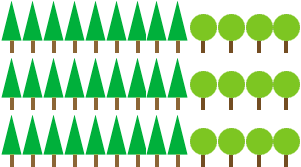 In each cluster of trees there are 4 maple trees and 9 pine trees, thus in each cluster there are 5 more pine trees than maple trees. In total you have 45 more pine trees than maple trees. How many clusters do you have? Cheers,
Penny

Go to Math Central