In my mind I see a graph of the density function.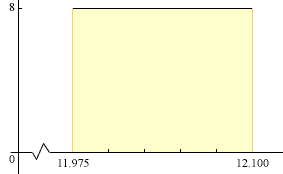 Notice that the scales an the X and Y axes are not the same and there is a break in the X-axis between 0 and 11.975. Notice also that the arera under the curve, that part shaded yellow, is 1 as it must be for a probability density function. I am going to do part b), and you can do parts a) and c).
In b) you want the probability that x is between 12 and 12.05. On the diagram that is the area under the density function, between 12 and 12.05, the region shaded red in the diagram below.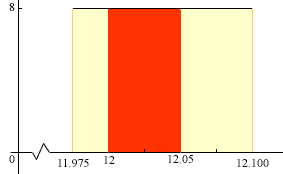 This region is a rectangle so it area is the length times the width, that is
(12.05 - 12) 8 = 0.05 8 = 0.4
Thus the probability that a bottle will be filled between 12 and 12.05 ounces is 0.4
Cheers,
Penny