Hi Jason,
If the pyramid is regular then you can do it this way.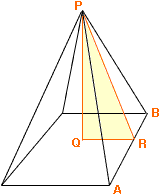 P is the vertex of the pyramid and R is the midpoint of the side AB. The line PQ is perpendicular to the base so, by the fact that the pyramid is regular, you can conclude that Q is in the center of the square base. Thus |QR| is half the length of AB.
PQR is a right triangle and you know |QR| and |PQ| so you can use Pythagoras' Theorem to find |PR|.
Penny