Hi,
Here is what I see from your description.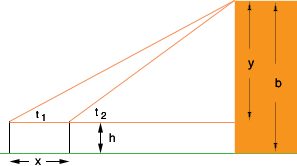 The height of the building is b, the angles are t1 and t2 , h is the distance from the ground to your eyes and y is the difference between b and h.
Knowing the angles and x you can use trigonometry to find y. Measure h and then b is h plus y.
I know that this isn't following the instructions explicitly, but like you I don't see an easy way to measure the angle at your feet.
Penny