Hi Peter,
I drew a daigram of the situation you describe.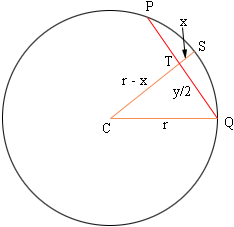 The line segment PQ is of length y and the line segment ST is of length x. I let r be the radius of the circle. You know y and x and you want to find r.
Since triangle TCQ is a right triangle
|CQ|2 = |QT|2 + |TC|2
hence
r2 = (y/2)2 + (r - x)2
Solve for r.
Penny