Hi Trish,
If you join each vertex of a regular octagon to to the center you get eight, congruent, isosceles triangles. One such triangle is POQ in the diagram below.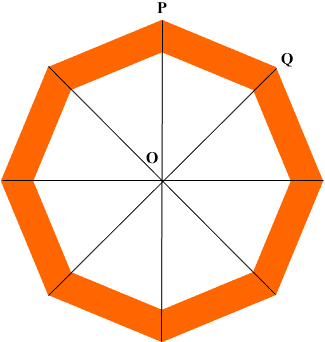 Angle POQ then has measure 360/8= 45 degrees. Since POQ is isosceles, angles OQP and QPO are equal. But the sum of the angles in a triangle is 180 degrees and thus
Angle QPO = (180 - 45)/2 = 67.5 degrees.
Thus, if you cut each 2 by 6 at an angle of 67.5 degrees they will fit together to form a regular octagon.
If you have a digital camera send us a photograph of the bed when you are done.
Penny