Hi Adrian,
All three of these problems involve drawing a diagram, labeling the appropriate quantities, using the diagram to develop an equation and then solving the equation. I'll do the first on and then your child can do the other two.
The diagram for the first problem includes the original field as well as the extended field.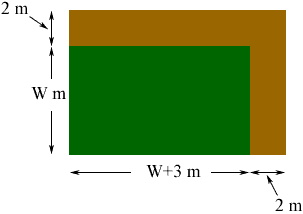 I called the width of Julia's soybean field W meters and then its length is W + 3 meters since it is 3 meters longer than it is wide. She is going to add an additional 2 meters in length and an additional 2 meters in width so I drew these strips also.
The area of the original field is
W (W + 3) square meters s
and the area of the extended field is
(W + 2) (W + 5) square meters.
You know that the extended field is 46 square meters larger than the original field so
(W + 2) (W + 5) = W (W + 3) + 46
Solve for W.
Penny