Hi Douglas,
I drew a diagram of what I think your pool looks like.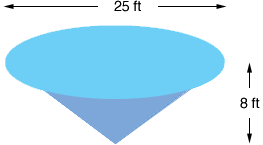 The volume of a cone is
1/3 r2 h
where r is the radius of the circular base and h is the height. Your pool has a height of 8 feet and the base of radius 12.5 ft so the volume is
1/3 r2 h = 1/3 12.52 8 = 416.667 cubic feet.
I know that there are 231 cubic inches in an American gallon so I need to convert the volume above from cubic feet to cubic inches. There are 12 inches in a foot so there are 123 cubic inches in a cubic foot. Hence the volume of your pool is
416.667 123 = 720000 cubic inches.
Thus, converting to gallons, the volume is
720000/231 = 3117 gallons.
Penny