Hi Renee,
You have a circular slab of sand with a radius of 20 feet and a thickness of 4 inches.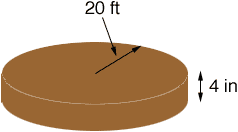 The volume of a circular slab is
r2 t
where r is the radius and t is the thickness.
Since you want the volume in cubic yards I would first convert all the measurements to yards. There are 3 feet in a yard so 20 feet is 20/3 yards. 4 inches is one-third of a foot so 4 inches is
1/3 3 = 1/9 yards.
Thus the volume is
(20/3)2 1/9 = 15.5 cubic yards.
Penny