Hi Susan,
Join each vertex of the pentagon to the centre C to form five congruent triangles. Label two adjacent vertices A and B and let P be the midpoint of AB. The length of the line PC is then the height h of the triangle ACB.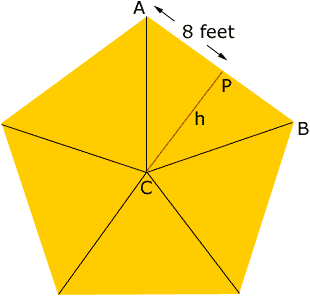 Since AB is 16 feet long, AP is 8 feet long. Since the five triangles are congruent the angle ACB is one-fifth of 360o which is 720 and hence angle ACP is 360. Thus
tan( 360) = 8/h so 0.7265 h = 8 and h = 11.01 feet.
Thus the area of the triangle ACB is 8

11.01 square feet and hence the area of the pentagon is
5 8 11.01 = 440.4 square feet.
Penny