Hi Timothy,
If you draw the three diagonals in a regular hexagon the hexagon is divided into six equilateral triangles.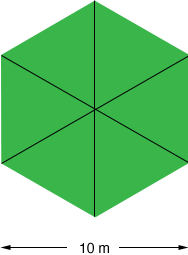 Since your hexagon is 10 meters across, each of these triangles has a height of 5 meters. I drew one of these triangles below.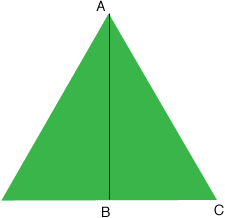 The length of the line AB is 5 meters and, since the tiiangle is equilateral, the angle BCA measures 60o. Thus
|AB|/|AC| = sin(60o) = sqrt(3)/2
Thus
|AC| = 2 |AB|/sqrt(3) = 10/sqrt(3) = 5.7735 meters
Thus the length of each side of the hexagon is 5m 77cm and 35mm.
I think there must be a typo in your statement of the problem. I doubt that you have a patio table that measures 10m across. The solution above however tells you how to find the length of a side of a regular hexagon. Take the measurement across (from the middle of one side directly across to the middle of the other) and divide by the square root of 3.
Penny