Tuomas,
Think of the paper laid out as one long piece. The edge of this paper strip is a very long, thin rectangle of some length L and thickness t.

This long, thin rectangle has area t

L.
Now roll the paper onto the reel and look at the end of the roll. Let R be its radius and r the radius of the core.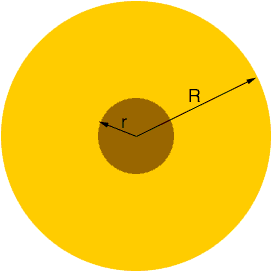 The edge of the paper in now in the shape of a disk of radius R with a hole in its center of radius r. The area of this region is
R2 - r2 = (R2 - r2)
But the area of the edge of the paper has not changed, only its shape has changed. Hence
t L = (R2 - r2)
Penny