Hi,
Did you draw a diagram?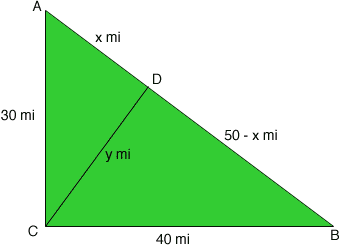 Since triangle ACB is a right triangle, you can use Pythagoras theorem to show that the road from A to B is 50 miles long. I let x be the number of miles from A to D and y be the number of miles from C to D.
Since CD is perpendicular to AB, triangles ACD and DCB are right triangles. Write down Pythagoras theorem for each of these triangles. This gives you two equations in x and y. Solve these equations to find x and y.
Penny