Hi Julie,
Let me try an example. I am going to look at the number thirty-eight and I want to imagine that I have thirty-eight sticks. If I am thinking of base 10 ten I gather the sticks together into bundles of size ten sticks. I get three bundles of ten sticks each and then eight more sticks. In base ten then we write thirty-eight as 38. The 3 is the number of tens and the 8 is the number of units left.
Now suppose that I want to write thirty-eight in base five. I first collect the sticks into bundles of five sticks each. I get seven bundles of five sticks each and 3 more sticks. Now I look at the seven bundles and gather then together into packages of five bundles each. I get one package of five bundles and 2 bundles remaining.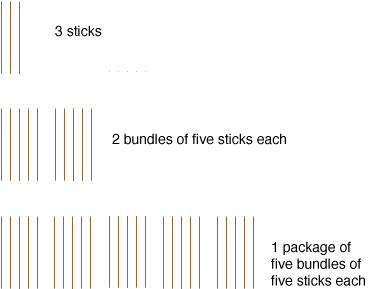 Thus thirty-five, written in base five is 1235.
The 1 is the number of twenty-fives, the 2 is the number of fives and the 3 is the number of units remaining.
Arithmetically what I did was
38/5 = 7 with a remainder of 3

7/5 = 1 with a remainder of 2

1/5 = 0 with a remainder of 1
Reading the remainders from bottom to top I get 1235.
What about one hundred and thirty-six?
136/5 = 27 with a remainder of 1

27/5 = 5 with a remainder of 2

5/5 = 1 with a remainder of 0

1/5 = 0 with a remainder of 1
136 = 10215
Penny