Name: Linda
Who is asking: Other


Question: I hope this is ok, I really need the help of a math whiz because I am sure not one lol. My problem is in relation to wood and making a six sided object from it. On my saw, there is a place to set the angle to which you wish to cut. I cannot for the life of me, figure this out. I am starting with a piece of plywood (1/4" x 6" x 18") and need to know what the angle degree would be to make each of the sides match perfectly to form a hexagon. Trial and error just is not working. Can someone help me?
Thanks for your indulgence to a non student/teacher. Linda
Hi Linda,
I drew a picture of one end of your board with a hexagon on it. The angles you want are 60o and 1200as in the diagram.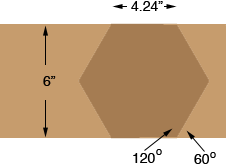 Since the width of your hexagon is six inches the length of each side will be very close to four and a quarter inches.
Penny