Hi Danielle,
I attempted to draw what we think the ceiling of your looks like.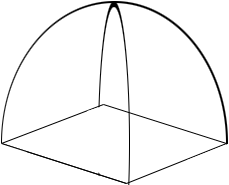 If our assumptions are correct then an ant which starts in the middle of one side of the room at the floor and goes up the wall to the apex of the dome and then down to the middle of the opposite side will have travelled along a circular path. Also in our model if you slice off the bottom of the dome at any height above the floor by a plane parallel to the floor then the base of the smaller dome that remains will also be a square.
If this seems to fit your situation then we can find the surface area but we need more information. Can you tell us the lengths of the sides of the square base and the height of the dome at the centre?
Penny and Stephen La Rocque.