Hi Ed,
I assume you want to roll up the piece of metal to form a circular cylinder.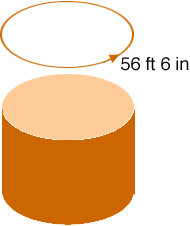 The circle will thus have a circumference of 56 ft 6 in or 678 inches. The circumference of a circle is
2 π r
where r is the radius and π is approximately 3.1416. Thus you have
678 = 2 π r
and thus
r = 678/(2 π) = 107.91 inches
12 × 9 = 108 so the radius of the circle is very close to 9 ft.
We are curious about what you are making. Can you tell us?
Penny