Hi Fhay,
I drew the triangle and extended the side of length 102 units to form a right triangle ADC.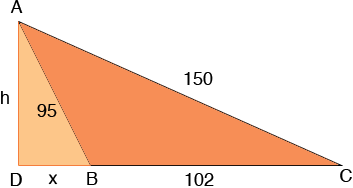 Since triangle ADB is a right triangle you can use Pythagoras' Theorem to find a relationship between h and x. Also triangle ADC is a right triangle so again using Pythagoras' Theorem you can find a second relationship between x and h. Solve these two equations for x and h.
Now you can use trigonometry to find the angles. For example the sine of the angle BCA is h/150.
I hope this helps,
Penny