Hi Jason.
The equations you provided are two lines that intersect. Therefore
you can put a circle of any given radius in four different positions,
giving four different circle equations.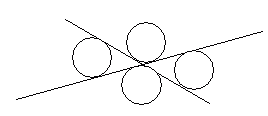 Stephen La Rocque.>
Jason,
We don't see a straightforward way to do this. Are you sure there isn't a typo in the problem? If the second equation were x - 3y + 10 = 0 then the two lines would be perpendicular.
Penny