Hi Jeremy,
Here is a diagram of the foundation looking down from the top.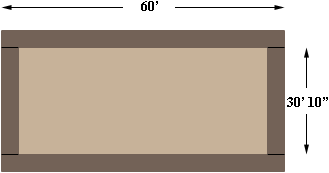 You can think of the foundation as being formed from four slabs. Two of them are 60 ft long, 5 ft high and 7 inches thick. The end pieces only need to be 32ft - 2

7 in = 30 ft 10 inches long, 5 feet high and 7 inches thick. The volume of concrete you need is then the sum of the volumes of the three slabs. Since you want the volume in cubic yards you should convert all the dimensions to yards before you calculate the volume. You can check your calculations using our volume calculator.
Penny