Hi Sharon,
I am a very visual person so I drew a diagram. W is the position of the window washer and B is the position of the bottle t seconds after it is dropped. I wrote the height of the bottle off the ground as h(t) rather than h since it is a function of t.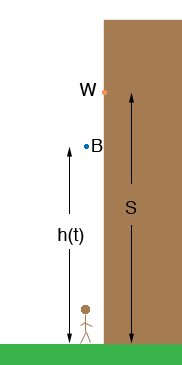 Since the window washer is 6 stories up and each story is 12 feet, s = 6

12 = 72 feet. The woman is 6 feet tall so if she stays put the bottle will strike the top of her head when h(t) = 6 feet. Substitute h(t) = 6 feet into the expression
h(t) = s - 16 t2
and solve for t.
Penny