Taranjeet,
I'm not sure I understand either but I'll show you what I think is the situation. First I think there is a typo in what you sent. I think the function should be
h = - 1/40 x2 + 3x
This is a parabola that opens downward and crosses the x-axis at x = 0 metres and x = 120 metres. This gives the height of the arch above the river so the endpoints of the arch are on the x-axis. The road is 50 metres above the river so the image I have is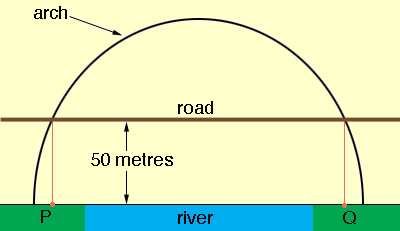 If this is the correct interpretation then you can find the x-coordinates of the points P and Q. These are the values of x for which
- 1/40 x2 + 3x = 50
I don't know if this is where the vertical supports are placed.
I hope this helps,
Penny