This is best done by three simple steps:
- the answer you want is the area of the square minus the area of four 'corner triangles' (see the diagram):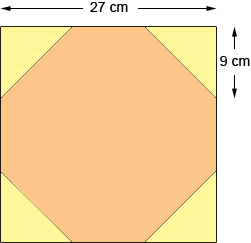 Now for the square: the four sides are each 1/4 of the perimeter (the sum of the sides): 27 centimeters.
From this you can calculate the area of the whole square.
For the triangles: the short sides are each 1/3 of the sides of the square: 9 cm.
From this, and the right angle in the corner, you can calculate the area of each of the triangles.
Alternatively, each pair of the triangles forms a square of side 9 cm.
So you now have the pieces. You can now complete the pieces and subtract.
There is a second way to check this answer: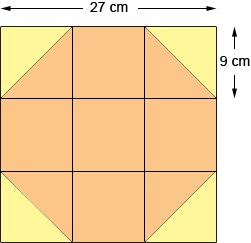 With this you can see that the whole square is divided into 9 smaller squares.
Four triangles (or two of the squares) are left out. So you want the area of seven of the squares, each of which is 9 cm by 9 cm. Again, you can complete the calculations!
Walter Whiteley