Hi Sean.
The key is this property of circle geometry:
The angle formed by the tangent to a circle and the radius to the point of tangency is a right angle.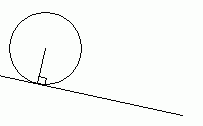 Draw line OP and label your lengths, recognizing that |OQ| = |OR| = |OP| = radius. Then use the Pythagorean Theorem to complete your question with simple algebra.
Hope this helps,
Stephen La Rocque.