Hi Sam,
Imagine that you move up from the base x units and cut a horizontal slice through the pyramid as in the diagram.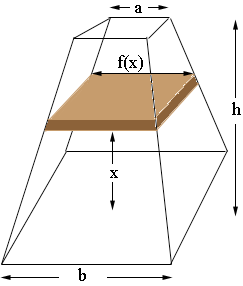 Suppose that the slice is of thickness

x. The top of the slice is a square and let f(x) be the length of a side of the square. Hence the volume of the slice is approximately
f(x)2 x square units.
From integration theory you can now conclude that the volume of the frustum is

All that remains is to find f(x). That you can accomplish using similar triangles.
Penny