Amanda,
Try to construct one.
Draw a pair of perpendicular lines (black).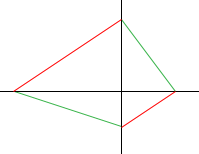 Draw a line that intersects the two black lines (red). Draw another red line parallel to the first so that the point where the two black lines intersect is between the red lines. Draw two lines to complete the quadrilateral (green).
Harley