Wow! Caveat Emptor!
I scanned the diagram you faxed to us, cropped it somewhat and added some lines and labels.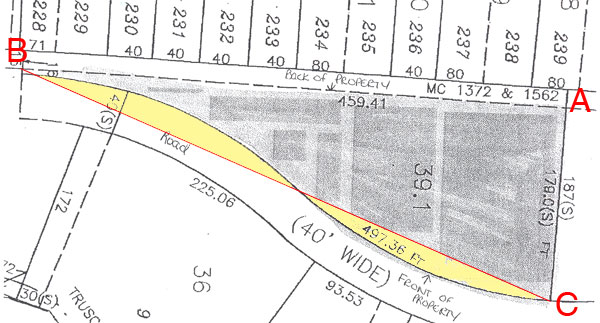 The best I can do is supply an estimate of the area. I am not sure I can rely on the accuracy of the diagram and the curve at the front of the property adds an additional complication. What makes this possible is that the angle at the north east corner, the angle CAB, seems to be very close to a right angle.
I joined B and C to form the triangle ABC and noted that the triangle ABC has an area very close to the area of your property. The triangle gains one of the pieces shaded yellow and loses the other, and the two yellow pieces look to have very similar areas. Since I am assuming the angle CAB is a right angle I can find the area of the triangle ABC by
triangle area = 1/2 × base × height = 1/2 × 459.41 × 179.0 = 41117.195 square feet.
There are 43560 square feet in an acre so my estimate of the area is
41117.195/43560 = 0.9439 acres.
I hope this helps,
Harley