Jorge,
I included the photo you sent of a piece of the gasket.
If I understand correctly you want to form the gasket into a circle and you want to know the diameter of the circle as a function length of the gasket, the circumference of the circle.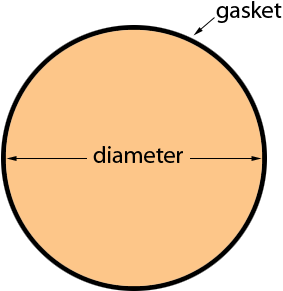 The expression you want is
circumference = π × diameter
where π = 3.1416. Thus
diameter = circumference/π.
Hence for the example you sent with the circumference = 21 inches
diameter = circumference/π = 21/3.1416 = 6.68 inches.
If you don't like decimal parts of inches take the decimal part. 0.68 and multiply by 16 to convert it to sixteenths. Thus 0.68 × 16 = 10.88 so the diameter is 6 11/16 inches.
I hope this helps,
Harley