Hi Lorraine.
The distance from the center to a chord would meet the chord in at a right angle right at the midpoint of the chord.
If you draw this, and also draw the radii involved, you can see two distinct right triangles: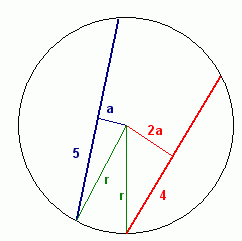 So let a = the distance to the 10 inch chord, then 2a is the distance to the 8 inch chord, according to the description.
Now take a look at what pythagoras has to say:
r2 = 52 + a2 and r2 = 42 + (2a)2
Can you solve this system of simultaneous equations for r?
Cheers,
Stephen La Rocque.