Hi Peggy.
There are a number of ways of solving the problem. Here's one way.
First we start with the trig identity that decomposes tangent into
sine over cosine:

That makes our equation

which re-arranges to

There's another trig identity that we can use:

So we have this:

which re-arranges to this:

Now we can "complete the square" in order to factor this quadratic: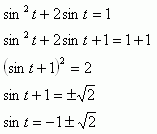 This gives us two answers. You will have to check to make sure they both
make sense.
Cheers,
Stephen La Rocque.