Hi Sara,
To illustrate I drew a tree diagram for the situation that the photocopier was working on Monday. It has three levels, one for each of Monday, Tuesday and Wednesday. W designated the photocopier is working and N that it is not working.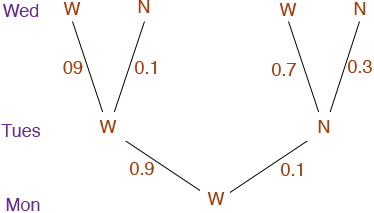 After drawing your tree diagram can you answer this question?
Ian was ill on Tuesday and didn't go to work. He phoned a colleague and asked him to photocopy an important report. His colleague agreed to do it if the photocopier was working. When Ian arrived at work on Wednesday morning the photocopier wasn't working. What is the probability that his report got photocopied?
Penny