Scott,
I don't understand what you are asking. Do you have a circle inside a square where the square has area an acre and you want the area in the corners outside the circle?
Harley
Scott wrote back
Yes that's it. Sorry I didn't explain it better.
Scott,
An acre is 43,560 square feet so if you have a square with area one acre and each side is x feet long then
x2 = 43,560
so
x = √43,560 = 208.71 feet.
Hence the radius of the inscribed circle is 208.71/2 = 104.36 feet.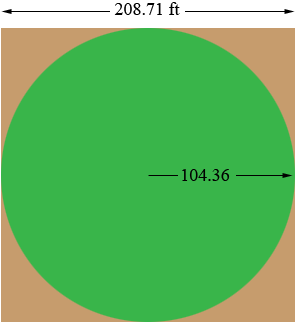 What is the area of a circle with radius 104.36 feet? Subtract this from 43,560 square feet to find the area of the corner pieces.
Harley