Hi Shannon,
First I would convert the radius to inches in decimal form. I get 25.625 inches.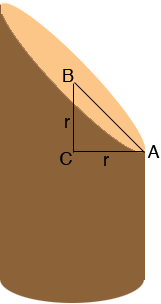 On the diagram C is in the centre of the cylinder. The triangle ABC is a right triangle and since the measure of the angle CAB is 45 degrees |BC| = |CA| = r, the radius of the cylinder. Using Pythagoras theorem
|BC|2 + |CA|2 = |AB|2
so
|AB|2 = r2 + r2 = 2r2
and hence |AB| = √2 r = 1.4142 × r.
Harley