Hi Beary,
Remember that if O is the centre then OB will also be a radius of 10.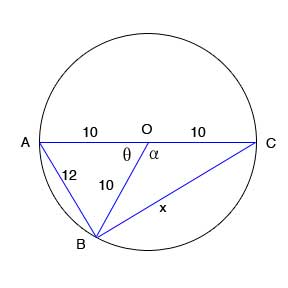 You first need to solve for angle θ using the law of cosine states:
For any triangle with side lengths a, b and c,
c2 = a2 + b2 - 2ab cos C
where angle C is the angle opposite side length c.
In your case, side AB is opposite to θ.
Next solve for α which we know equals 180- θ since it makes a straight angle with θ. Use the value of α and the law of cosines again to solve for side BC.
Hope this helps,
Janice