Anthony,
Are you sure the table has a radius of 100m? That's almost large enough to bee the roof of a football stadium.
First, one should subtract 50 from the legs to put the centre C of the table at the origin.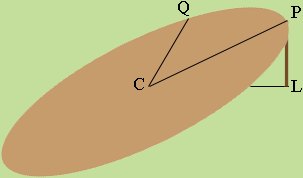 The point P, which is at the top of the leg which stands on the positive X-axis, is a distance |PL| = 5 am above the XY-plane. |CP| = 100 am and hence, by Pythagoras theorem, |CL| = 5√399 am Hence P has coordinates (5√399, 0, 5). Similarly the point Q, directly above the Y-axis has coordinates (0, 20√24, 20). The points C, P and Q can then be used to write the equation of the plane which contains the surface of the table. We got the equation to be
√(24 × 399) z = √24 x + √399 y.
The slope of the table top is steepest in the direction of the gradient and the gradient of this function is in the direction √24 i + √399 j.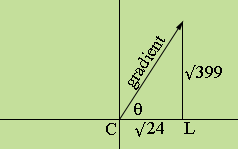 XY-Plane
Hence the measure of the angle θ is tan-1(√399/√24) = 76.2 degrees.
Chris and Harley