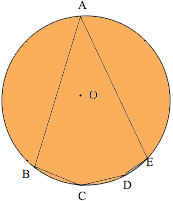 Faisal's diagram
Faisal,
The theorem you should try to use here:
BCDE is a quadrilateral inscribed in a circle so the sum of the angles at B and D add up to 180 degrees.
To set the theorem up, set the angle at A equal to x degrees. Then in the isosceles triangle ABE you can figure out the measure of the equal angles at B and E in terms of x. Subtract that number from the total angle of the pentagon at B (namely 95 degrees) and you get the portion of the angle B that lies in the quadrilateral BCDE. Add the resulting number to angle D = 135; the total must be 180 degrees, so you have an equation that you can solve for x.
Chris