Hi Hannah,
I'm confused. You say there is no measurement and then you include three measurements. Is this the diagram?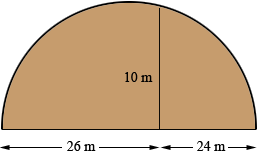 Penny
Hannah wrote back
no those measurement were for the triangle part! the semi circle's height was 10m!!!
Hannah,
Your original question didn't mention a triangle. Can you send us a diagram?
Penny