Hi Mark,
If you have a regular polygon with an even number of sides n then the opposite sides are parallel. In my diagram the distance between a pair of opposite sides is d units, you have d = 8 ft. I used s for the length of a side.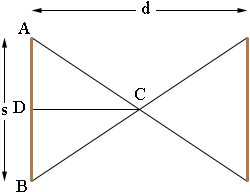 Since the polygon is regular and the number of sides is n, the angle BCA has measure 360/n degrees. Thus the angle DCA has measure half of that which is 180/n degrees. Hence
tan(180/n) = |AD|/|DC| = (s/2)/(d/2) = s/d.
This gives the side length s as
s = d tan(180/n).
I hope this helps,
Penny