Hi Meagan,
I called the lengths of the triangles L centimeters, the widths W centimeters and put them together the way you described.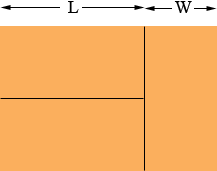 From the diagram the area is (L + W) × (2W) which is 1350 square centimeters. Look at the diagram, what relationship can you see between L and W? Substitute this into the area relationship above and solve for L and W.
Can you see now how to complete the solution?
Penny