Tom
I'm not sure I completely understand but here is my diagram, the units are inches. Unfortunately it's not to scale. I am not sure about the 1 inch flange.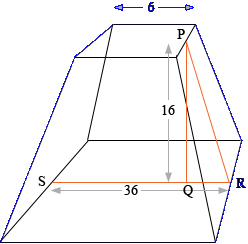 Since the distance rom S to R is 36 inches and the width of the top is 6 inches, the distance from Q to R is (36 - 6)/2 = 15 inches. Hence the tangent of the angle QRP is 16/15 and hence
the measure of angle QRP is tan-1(16/15) = 46.85o.
Similarly in the other direction the analogous angle has measure tan-1(16/11) = 55.49o.
If I have misinterpreted your question please write back,
Harley