Hi Tyler,
I assume h and r are the height and radius of the water in the tank in feet at some time t minutes. The tank it self has a radius of 4 feet and a height of 10 feet.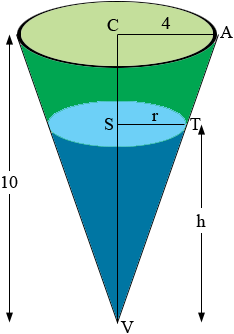 In the diagram the triangles ACV and TSV are similar and hence
4/10 = r/h.
The volume of water in the tank at time t is
V = 1/3 π r2 h cubic feet.
Use the relationship between r and h above to write V in terms of h alone. Differentiate this function with respect to t. Use the fact that dV/dt = 5 ft3/min to find dh/dt when h = 6 feet.
Penny