Hi Wanda,
Did you draw a diagram?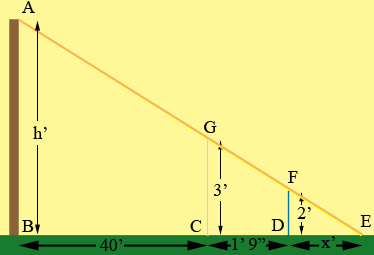 The second boy's eye, the top of the yard stick and the top of the flagpole form a straight line. I extended this line to meet the ground at E and called the distance the second boy to the ground |DE| = x feet.
The triangles GCE and FDE are similar and hence
|CE|/|GC| = |DE|/|FD|
(1' 9" + x')/3' = x'/2'
But 1' 9" = 1.75' and hence you can solve the above equation for x.
Now use the fact that triangles ABE and FDE are similar to find h.
Penny