Hi Brad,
Each consecutive even integer is separate by 2 so the sides would be n, n+2 and n+4. Since the hypotenuse is the longest side, I know that will be n+4.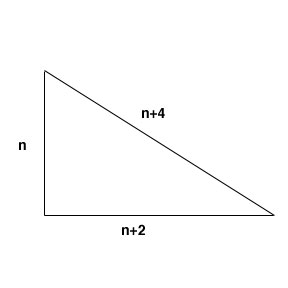 We can use the Pythagorean Theorem to solve for n. So then
n2+(n+2)2=(n+4)2
n2+n2+4n+4=n2+8n+16
2n2+4n+4=n2+8n+16
n2-4n+12=0
(n-6)(n+2)=0
n=6 or n=-2
Since the side of the triangle cannot be negative, n=6. So the length of the sides are 6, 8 & 10.
Hope this helps. If your son has not learned factoring or polynomial multiplication in school yet, guess and check might be the best option.
Janice