Brandon's diagram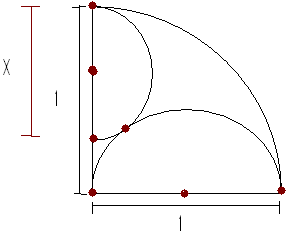 Brandon,
Your picture is wrong! There is a theorem you are overlooking: When two circles are tangent then the line joining their centers passes through the point of tangency. The Pythagorean theorem then gives an equation for x.
Chris
Brandon,
Look carefully at your diagram. Do you see anything suggesting a line that is not currently there? Add it.
Now label all radii of [semi,quarter]circles that you can find. Label the radius of your unknown semicircle "x".
Look for a right triangle whose sides you know, at least in terms of "x". Use Pythagoras.
Good Hunting!
RD