Hi Frank,
Here is how I see the situation you describe. Frank is at point F and the vapors cover the triangle FAB. I let C be the midpoint of AB so the distance from F to C is approximately 35,000 feet and you want to find the distance from A to B.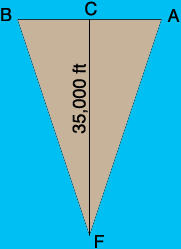 Since C is the midpoint of AB the angle ACF is a right angle. Suppose the angle CFA has measure t degrees then
tan(t) = |AC|/|CF| = |AC|/35,000
and hence
|AC| = 35,000 tan(t)
and
|AB| = 2 × 35,000 tan(t) = 70,000 tan(t).
You told us that you used a compass to find the bearings of A and B from F so that will allow you to determine the measure of the angle BFA and half of that is t.
I am not sure how accurately you can measure the length of |CF| and the bearings of A and B. Measurement errors in these quantities will result in inaccuracies in the calculation of |AB|. For example if you think the length of |CF| is 35,000 ± 1,000 feet and you think you know t within ± 5o then perform the calculation with |CF| = 34,000 ft and 36,000 ft and with t varying by ± 5o and see how the resulting value of |AB| changes.
Good luck with this,
Harley