Gabby,
Draw it out and you will see that you have two right triangles. Call the horizontal distance from you to the tower x and the height of the ledge y.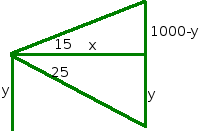 Can you picture it from this diagram?
tan(15) = (1000-y) / x and tan(25) = y / x.
Solve this pair of equations for y and you have your answer. Write back if you need more help.
Cheers,
Stephen La Rocque.