Hello Tanner,
This question has some hidden assumptions:
The building is built perfectly vertical (perpendicular to the ground)
The ground next to the building is level
A picture of our problem would be handy.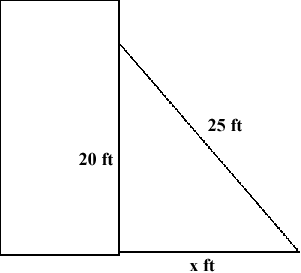 So, since the building is perfectly vertical and the ground is level, this is a right angle triangle so we may use the Pythagorean Theorem to solve for x:
x2 + 202 = 252
If the ladder is moved down by 4 feet, how high is the top of the ladder from the ground?
Solve for the new x value similarly and find the difference between the two.
Tyler